Since i've got a lot of questions in pm regarding 300WM Dragunov i decided to make stand-alone post about this build.
The main question which i hear is "Why?"
The answer is simple - because i wanted to.
I had a Tigr in 762x54 close by, a .30Cal blank and a Tigr-9 magazine. Also we had a spare time and a machine shop to perform this build.
Let's start from the fact that initially we wanted to take a Tigr-9 as a donor, but when we've bought it in Russia we found out that barrel on tigr-9 is not fixed to action via thread (as 762x54R and 308 Dragunov's do) but press fitted as in AK. So as i had no intention to make press-drill-tap we started to look around to find the donor.
After we have compared actions from Tigr-9 and 762x54R we found out that basicall they are the same - the difference is all about magwell. Also we knew that there was build in russia when guy installed 300WSM barrel in 762x54R Dragunov and it worked fine. So we went back to Czech and took usial 762x54R Tigr from the shop.
I would say that if i hadn't mentally stucked with 300WM build i SHOULD have been opted for 300WSM (more on that later) - since if you reload - no matter which cartridge to use. But 5 300WSM rounds go perfectly in usial SVD 10 round 762x54R magazine. But i decided to build rifle which can use readily available military cartridge.
1. Barrel
As you know barrel is threaded into action (M25x1,5) and mechanically to rebarrel Dragunov is the same as rebarrel Remington 700 - countour the barrelm make a thread, make a chamber, check the headspace - and here you go.

We took local good blank 28" .30Cal 1:8,5" twist. Since i hadn't the task to make "lightiest semi-auto around" barrel was countoured as 27mm to the area when freefloat chassis upper and lower joins
http://sureshot-armament.com/product/svd-chassis-mk1/
and 22mm after that point to the muzzle.
as the result we have 26.5" with 5\8-24TPI for AAC Muzzlebreak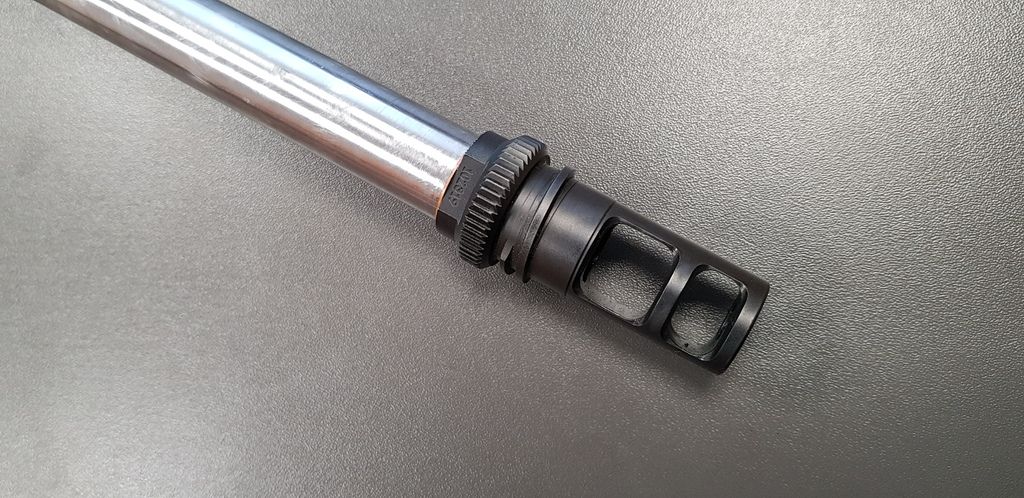 main "non casual" work is to mill extractor cuton the breech side of the barrel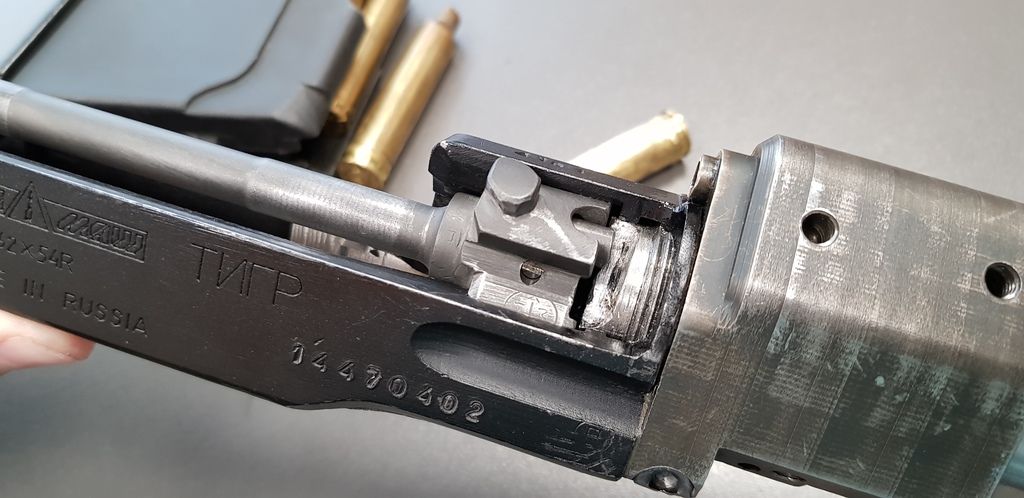 barrel is freefloated (i know about gasblock) since the chassis barrel nut doesn't touch it:
The bolt wasn't touched at all - it is stock 762x54R bolt.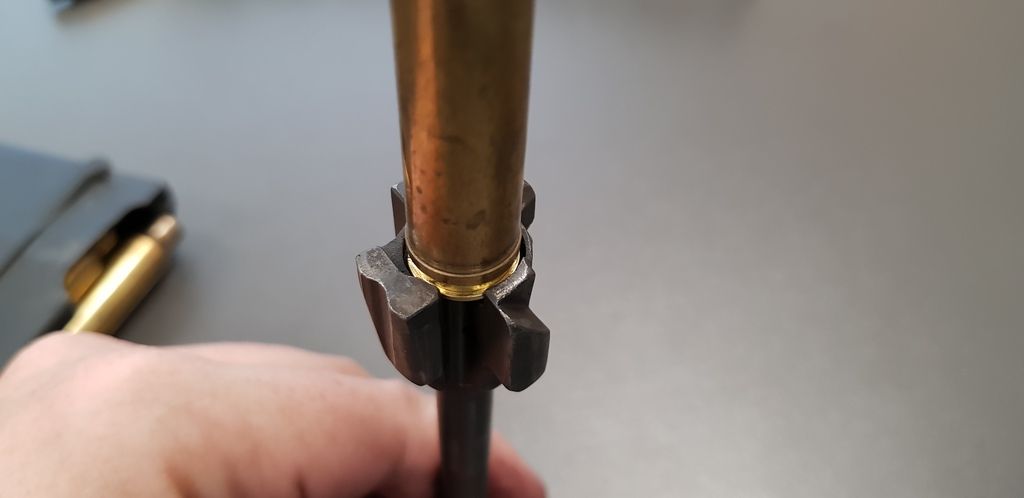 Video of the bolt closing:
2. Short-stroke gas system
Since the barrel is 22mm at the gasblock location now we had to mill new gasblock to which we simply installed stock adjustable chamber:
After the tests
we found that the BCG recoil speed is so huge that the exctractor stamps through the case base.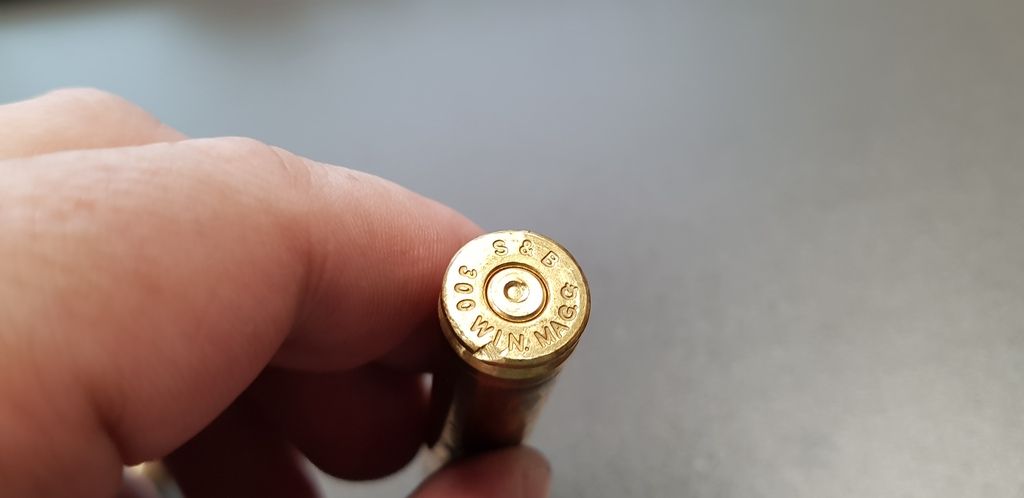 So we had to make adjustment hole to limit the amount of gas reaching the piston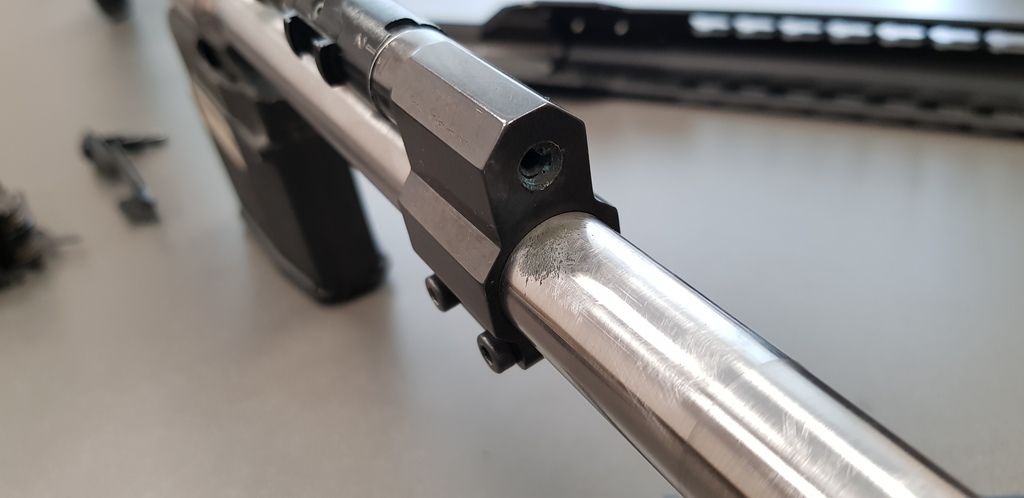 Tigr was "German-Civil" - which (due the German laws) had to be different from original SVD - that is why oprod is 5mm longer and a carrier has additional cut
assembled SVD short-stroke piston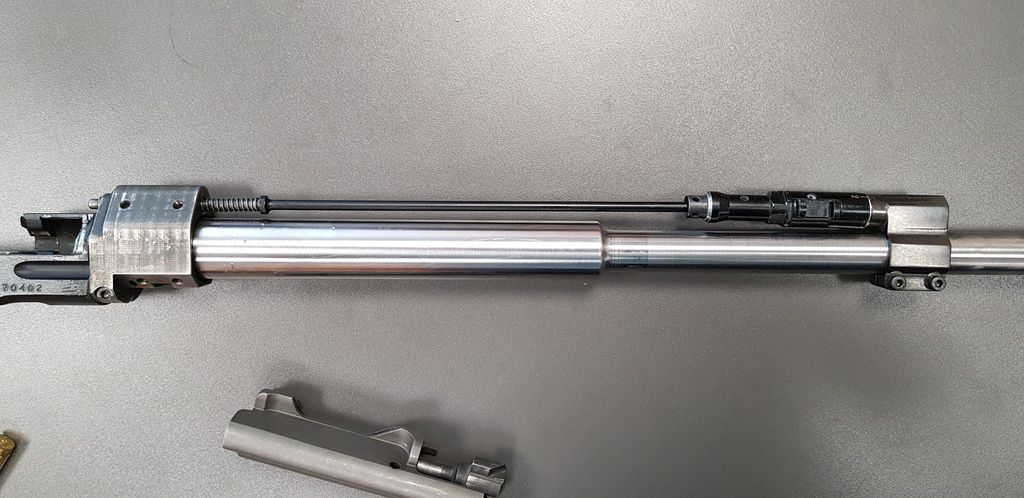 Video of SVD short-stroke piston:
3. reciever and the magazine
The main work was to fit the Tigr-9 magazine into Tighr 762x54R reciever. So we had to mill the magwell, cut the magazine latch and to weld material to let front magazine tooth to fit into reciver.
this is how Tigr-9 magwell is larger than 762x54R SVD magazine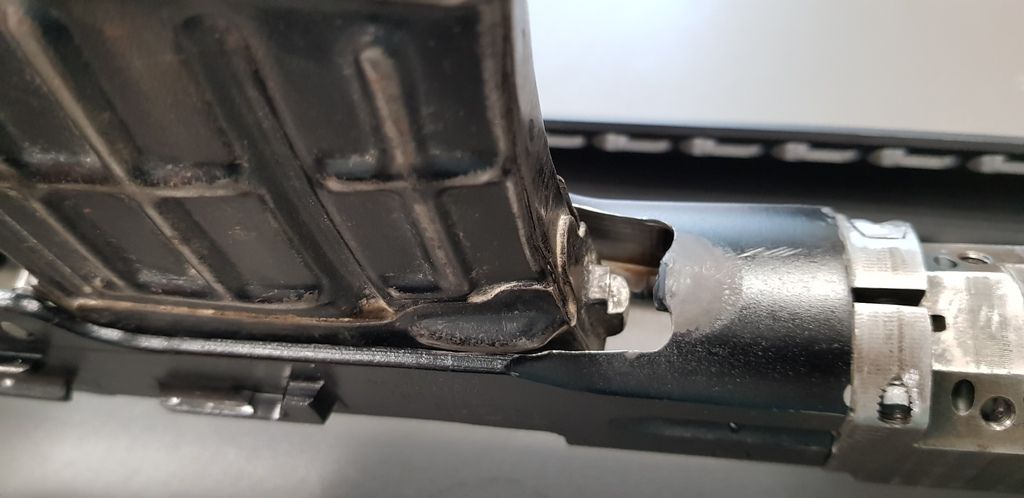 milled magwell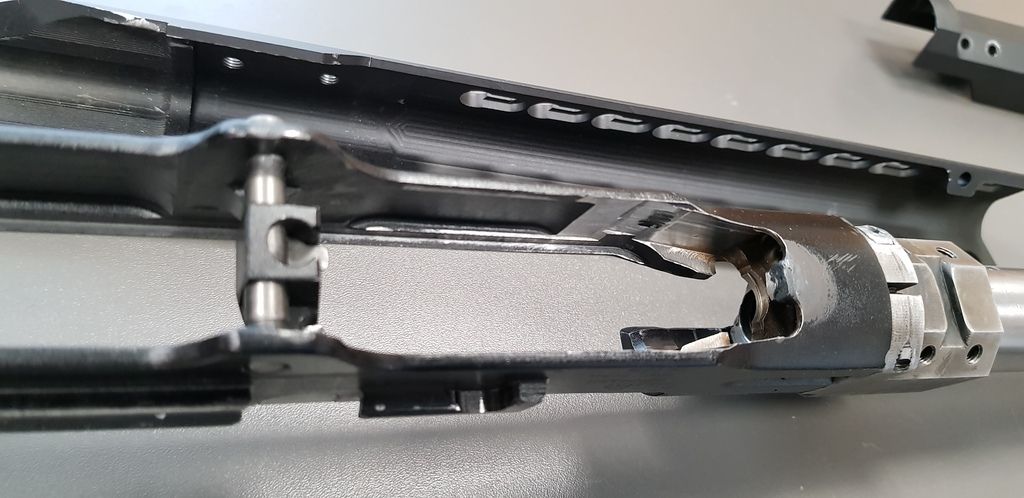 magazine fitted into place
The resume after 600 rounds on the range showed that
a. Tigr-9 polymer magazine is shit. when you use 4 rounds everything ok but when you fit 5th - it shrinks to the sides and to fit into magwell you have to work on it. So now we shall rebuild the magwel to the AICS LA CIP
b. (as the outcome from (a)) if you will reload anyway - opt ofr 300WSM. Since you won't have to mill the reciever.
4. Freefloat chassis and final assembly.
Chassis is used as a main "freefloating" element and as an optic's base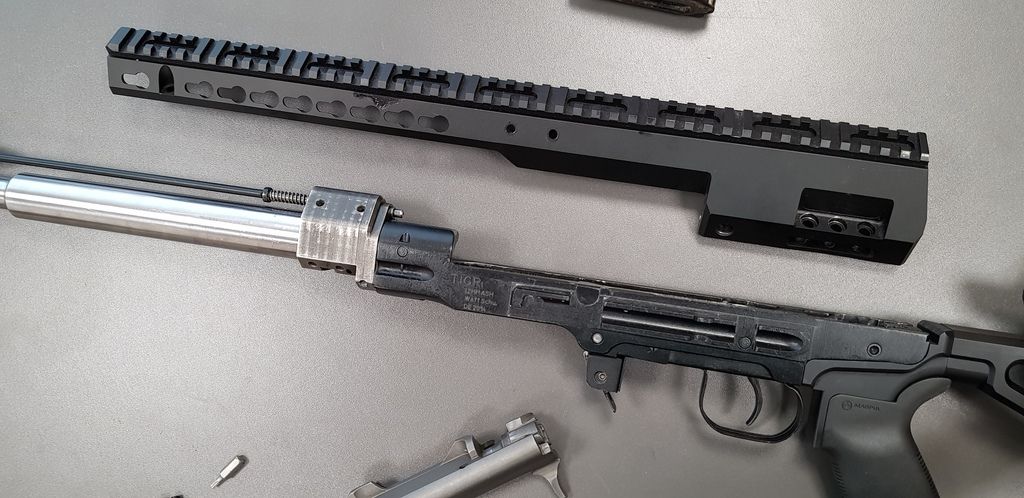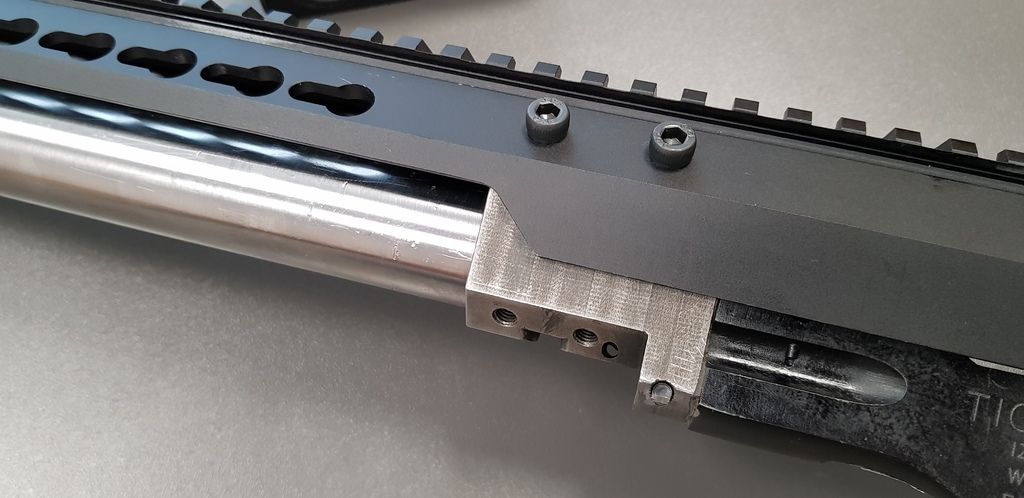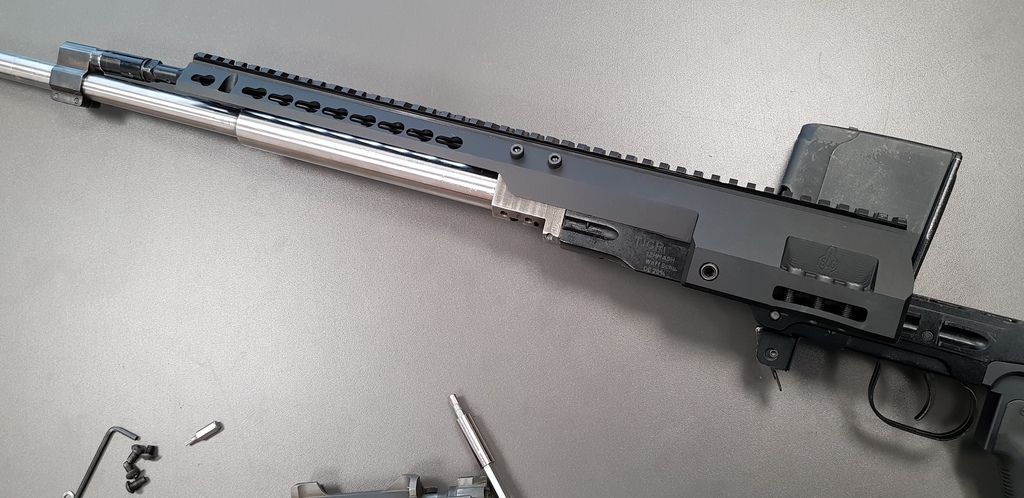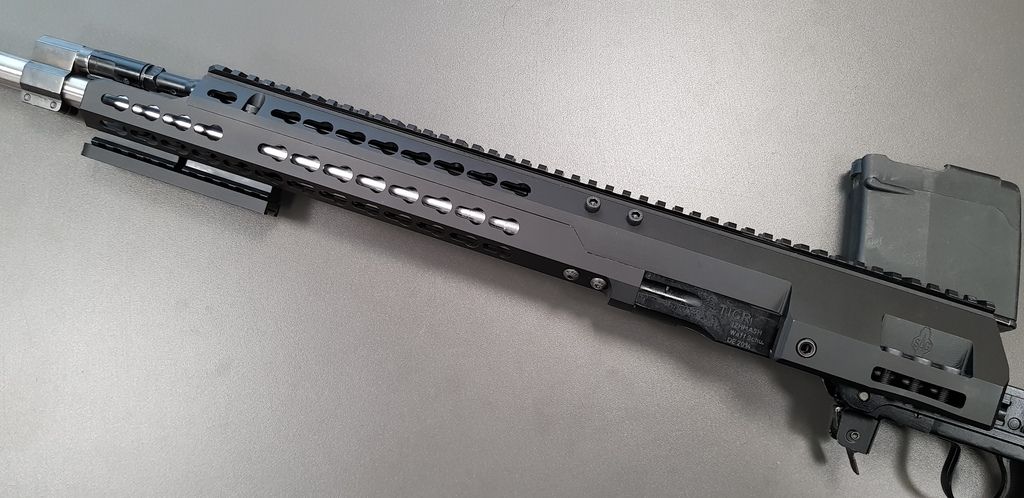 BCG installation
shortened top cover with recoil spring installation
also we've installed adjustable buttstock
http://sureshot-armament.com/product...ble-buttstock/
Result with Dedal 5-20 FFP scope
Weight with magazine without scope is 5500 grams / 12 lbs 2 oz
Catridge was assembled from:
Lapua case
RS70 67gr
220gr Scenar
Speed is 870ms (2850 fps) at +25C
accuracy wise i consider it 1MOA gun - 250 meter photo - 2 groups (top and bottom)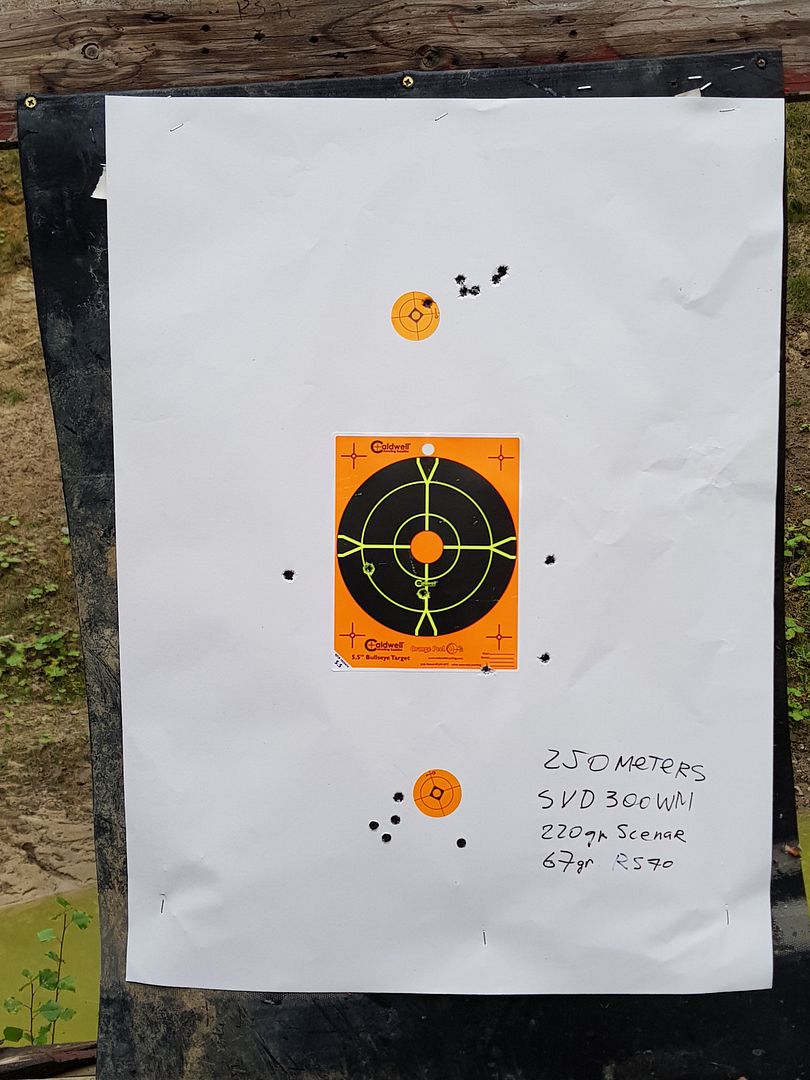 Resume
1. Dragunov is cool. with our freefloat chassis it is even cooler
2. To rebarrel SVD is not that hard - but you have to work out the extractor cut
3. If you opt for rebarrel - use a cartridge which fits into original SVD 10 rounds magazine - since this magazine is the best for the platform.
Cheers,
Val